Expedia Accelerates Mobile Growth, Introduces Major App Updates to Address Traveler Requests
Jun 11, 2015
Expedia.com, one of the world's largest full service online travel sites, recently unveiled several major updates to its award-winning Expedia mobile apps, in response to recent company research on mobile travel behaviors.
Recent Expedia app updates include:
Rental Cars: With Expedia mobile app customers increasingly citing rental car bookings as a "wish list" feature, the company added the ability to book rental cars.
Local Activities: Expedia added local activities in top U.S. destinations to help travelers book excursions, get tickets to shows, and undertake other activities across a range of ages and interests. This feature, and rental car availability, are currently available in the U.S., and will be rolling out to the Expedia app in the UK, Canada and other markets in the coming months.
Book Now, Pay Later: The Expedia mobile app now offers more choice in hotel purchases with "Book Now, Pay Later," which enables customers to reserve a room (for select hotels) without worrying about payment until check-in.
Vacation Package Savings: Travelers can save up to 55 percent on hotels by booking a qualifying flight first with the Expedia app and then booking their hotel stay within the next 10 days. Customers can search hotels that are eligible for extra discounts by tapping the dedicated messaging under qualifying mobile flight bookings in the "Trips" section of the Expedia app.
New Travel Collections for Tablets: Browsing potential destinations just got more colorful with the latest collections on the Expedia tablet app. Users in the U.S. will notice a new collection dubbed "Fun for all ages," and global users will appreciate a rich selection of "Global National Parks."
Redesigned Launch Screen: Expedia app users around the world will notice a fresh new look on the start screen, now featuring big, beautiful travel imagery and colorful tiles, as well as a more dynamic layout to bring additional travel content and services in the future.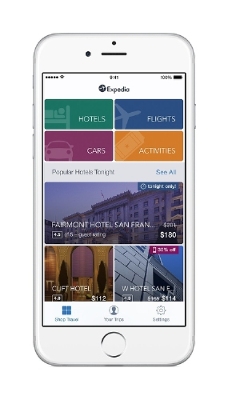 Recent Expedia mobile research found the following:
More than 1 in 5 Expedia flight and hotel searches occurred on mobile devices in 2014.
More than 1.6 million Expedia customers in 2014 who booked travel on PCs used the Expedia mobile app to view their trip itinerary, which is more than double the previous year.
The "Trips" page within the Expedia app receives approximately 250,000 views per day on average, demonstrating Expedia mobile users' reliance on this personalized itinerary feature to help guide their travel experience.
Save

&nbsp&nbsp ARC and Expedia Release Mid-Year Air Travel Trends for 2015
&nbsp&nbsp APH gets smart with Travelport