Expedia introduces clearer fare choices and new site features – Enhancements to improve the air travel experience
Oct 23, 2015
Expedia, Inc. introduced several new flight products and services designed to help improve the air travel experience for both customers and industry partners worldwide. The company is investing in tools to enable customers to compare and understand flight components in a transparent way, by making vast improvements to its global air products to address traveler fees and service expectations, and to help create a better overall shopping experience for travelers by making it easier to compare similar options across different carriers. These enhancements are part of a broader investment to build a comprehensive comparison marketplace for flights.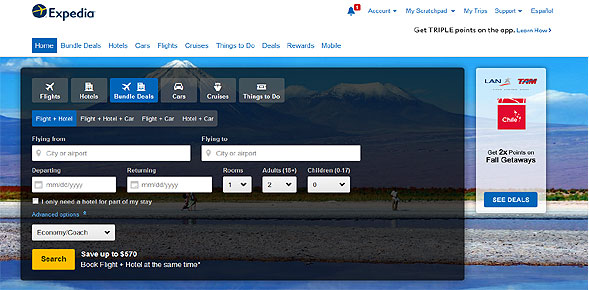 Upgrade Options: The company announced GDS partnerships last year to support airlines' branded fare families, and at the end of June officially upgraded the flight experience to begin offering customers the ability to search for and purchase a broader range of fare choices from select carriers.
Baggage Calculator: As a result of the company's recent partnership with ATPCO's Baggage Calculator, Expedia provides travel shoppers with more robust access to baggage fees and pricing information for the majority of airlines available to book through its sites.
Paid seating options: These offerings will be integrated into Expedia sites so that customers can easily identify, select and purchase these premium seating options via the online seat map.
Save