Top 10 Most Searched Travel API Providers on TravelOTAS
Dec 21, 2016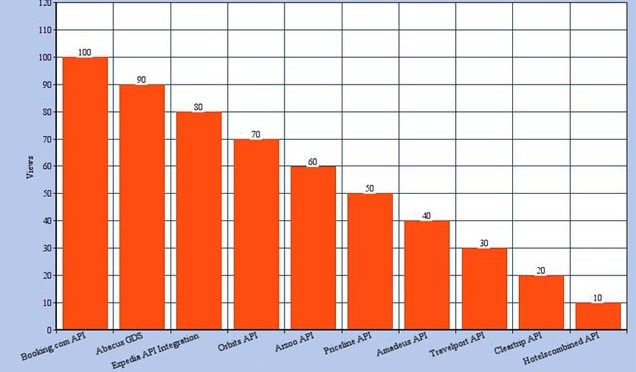 TravelOTAS is a travel portal development company that delivers complete travel portal solution as well as more proficient travel portal software for tours and travel industry. It provides end to end solution which has no limit with hotel booking API, flight booking API, car booking API but also concern with white label travel portal API, mobile recharge API with the best development integration.
It has been doing travel development over 10+ years and offering a list of API. Now in 2016, it has thousand of clients from different countries such as Russia, India, USA, UK, Germany, Italy who search a list of providers. In which some are most searched and frequently views that we present you to better understand most popular API provider
Most Searched Travel API Provider List

Booking.com is an online tour agency for online hotels booking sphere, which offers more than 200 thousand hotels of different categories in 165 countries of the world.
Features
In Booking.com you can search for hotel by city, hotel name, dates of stay, number of rooms with member
Allow Special offers
All details About hotel
View price change per day
View information
Book hotels
Print Vouchers
Send Comment to suppliers
2. Abacus GDS
Abacus is a leading travel technology provider who completes the need for travel agents and travel suppliers. Abacus global distribution system API integration for airline booking that enables the travel agencies to enjoy enhanced productivity and efficiency for the purpose of meeting the business needs.
Features
Powerful search capability and sorting functionality
Unique capability of rate negotiation
Convenient Geo-coding
Graphical user interface in enhanced form
Enhanced potential commission
Seamless API integration
Expedia is a hotel, flight, and car API provider to global clients. It is world leading travel company. It helps to millions of traveler to find their travel destination for their next trips. As the world's fastest-growing private label travel affiliate network, EAN works with over 10,000 partners in 33 countries to turn their web traffic into hotel bookings and happy customers.
4. Orbits API
Orbits online travel affiliate portal that offers thousand of a hotel, car, and flights in the top destination like the US, Las vegas, California, Hawaii, Mexico, Chicago with great offers. Millions of consumers search for and book wide range of hotel, flight, car rentals, cruises, vacation package and destination activities.
5. Arzoo API
With Arzoo.com, a business traveler is equipped to book discounted air tickets, discounted hotels at amazing rates, rent cars and enjoy a hassle-free travel. It provides best hotels with discounts with easy accessibility to major landmarks and other places of interest in the city.
Priceline offers best deals on hotels, flights, and rental cars in more than 71,000 destinations worldwide with 38.5 million verified guest reviews. It offers Exclusive opaque inventory across the hotel, flight, the car. The highest volume of room nights booked per day (700K+).
7. Amadeus API
Amadeus is a Travel Innovation Sandbox that currently includes Hotel Lowest-Price Search API, Hotel Airport Search API, hotel property code search API, Flight Traffic API, Top Flight Destinations API for global clients. It provides you const effective way to build and update your own customized travel booking applications.
Travelport enables to travel providers, travel agencies, corporations, and developers to connect that offering distribution, technology, payment and other solutions for the $8 trillion global travel and tourism industry. It helps to drive more commercial success across a business to business travel network.
The Cleartrip APIs let you build full featured websites and applications with all the power of Cleartrip's fast flight and hotel search and book functionalities, without having to sweat it out yourself to implement the complex stuff we've already done.
HotelsCombined.in that allows you to instantly find hotels and compare available room with price from all popular travel websites. It includes Expedia, hotels.com Venere, LateRooms, Travelocity all in one set of search results.
Save